There's no doubt that feedback management is an important part of creating a successful product. Collecting product feedback is not difficult, however, managing and tracking feedback can be difficult and time-consuming. One way to make sure you're getting the most out of your user feedback is to use a product feedback tool that lets you organize and draw insights from your feedback.
The best feedback management tools will save you time and deliver value by informing you about customer experience and customer satisfaction. We'll review a few different customer feedback tools and talk about the different approaches and benefits.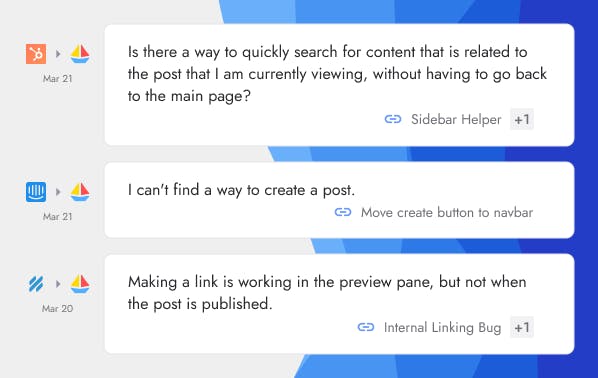 Embarkable is a product management platform that automates user feedback management. It automates the collection of feedback from different channels and uses AI to extract the meaningful feedback to improve your product. By fully automating this part of the feedback management process, Embarkable cuts out hours of time weekly that would normally be spent gathering, parsing, and tagging insights from your support channels, chats, social media, and surveys.
From there, Embarkable links feedback to ideas that you can place on a roadmap, making your feedback actionable. Because feedback is so easily accessible, it help inform every stage of the product development process. This allows companies to make data-driven decisions and release more successful products.
Other benefits of Embarkable include its user-friendly interface and time savings when defining features. Embarkable integrates with popular customer service software such as Zendesk and Intercom, and many more, making it easy for companies to use alongside their existing tools.
Pricing: $49/month +$5/user/month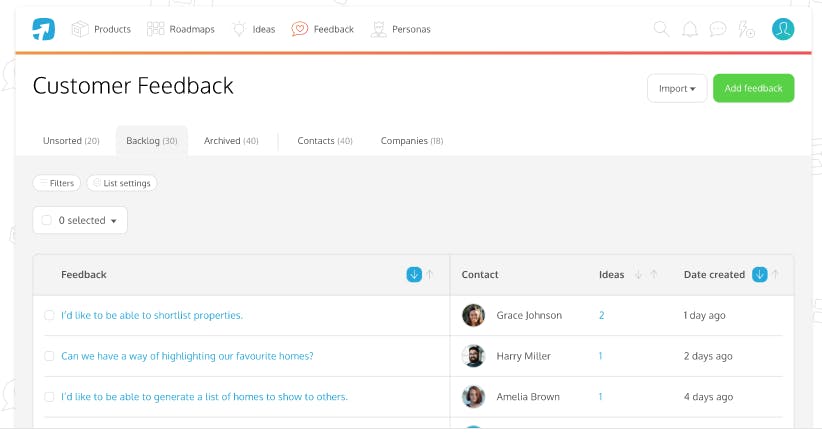 ProdPad is a product management tool that helps organizations to develop and track their product roadmap. It provides a centralized place for product managers to keep track of ideas, requirements, and features. ProdPad also offers features such as real-time collaboration, idea voting, and comment threads that help teams to discuss and prioritize features. Benefits of ProdPad include: - A centralized place for product managers to track ideas, requirements, and features - Real-time collaboration features that help teams to discuss and prioritize features - Idea voting and comment threads that help team members give feedback on proposed features - A flexible platform that can be customized to fit the needs of any organization ProdPad is successful because it is a simple, yet powerful tool that helps organizations to develop and track their product roadmap. ProdPad is different from its competitors because it offers a variety of unique features that make it an essential tool for any product manager.
Pricing: $25/user/month for just the features module. Other functionality costs extra and range from $15 - $25/user/month additional, per module.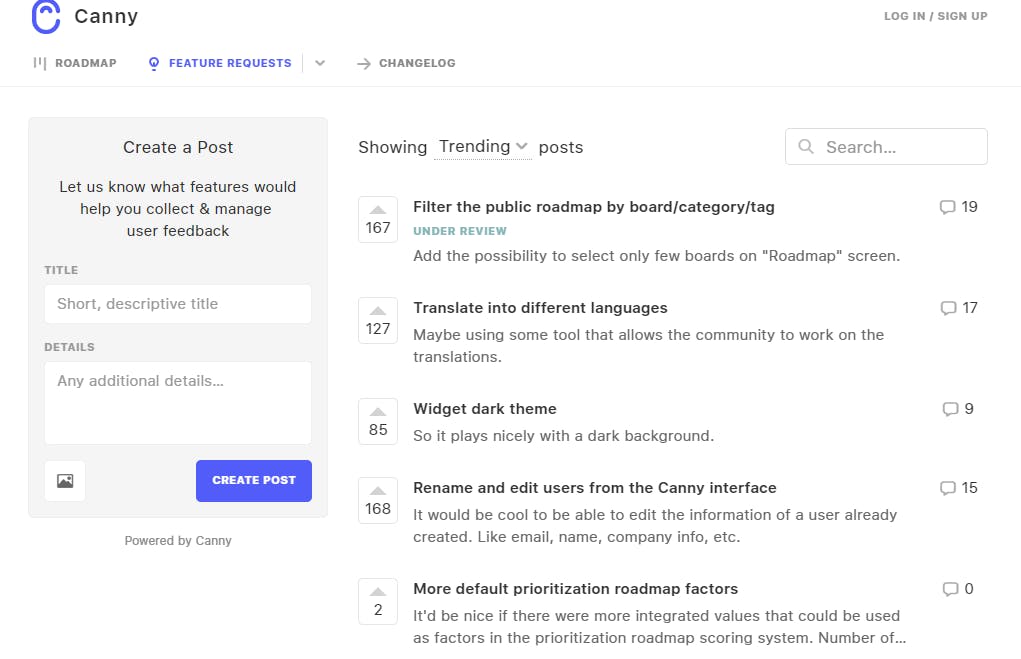 Canny is one of the many user feedback collection tools that allows users to submit and vote on ideas. It allows companies to track what features customers are requesting, which features are most important to them, and how satisfied they are with current features. Canny also has the ability to segment feedback by channels, product, and other criteria.
Canny has a somewhat lackluster prioritization feature that you can use to help make product decisions. Once you have decided to work on a feature, the result is a roadmap that can be shared publicly. As well you can use Canny to share product updates, and automatically follow up with people after releasing updates.
Canny has recently introduced a free tier which helps with growing businesses.
Pricing: Starts free, then $400/month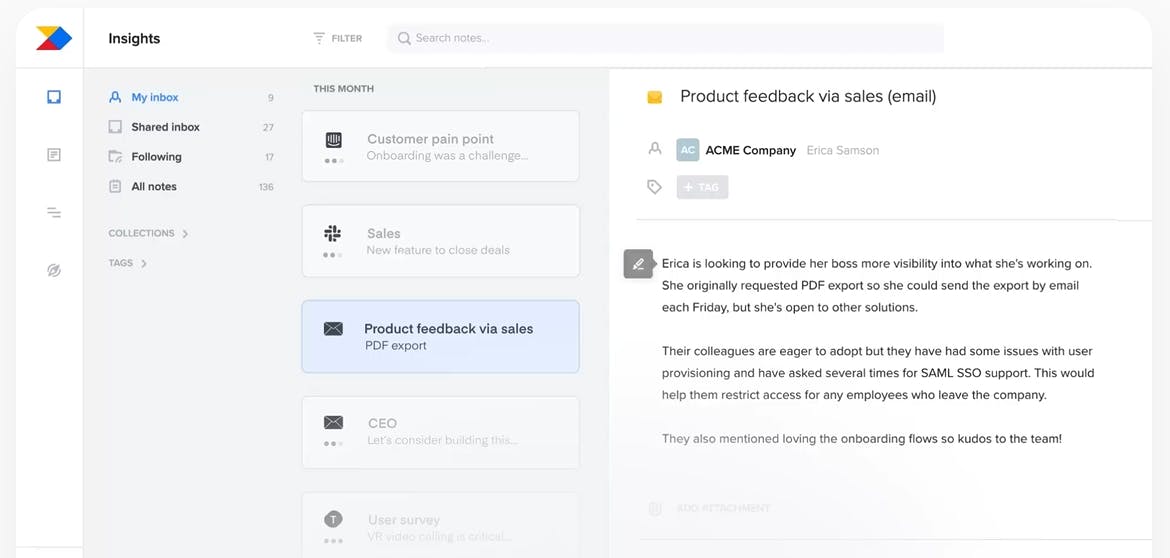 Productboard is a product management system that helps companies develop and release products. The benefits of Productboard include its ability to prioritize and track features, and its integrations with popular development tools. These benefits help organizations save time and money while developing products. Productboard has a feedback inbox which allows users to manually centralize customer feedback. Productboard has been embraced by companies of all sizes across industries.
Productboard's focus is more on the roadmapping module, allowing you to communicate product planning with stakeholders.
Pricing: To access feedback management features, Productboard starts at $70/user/month.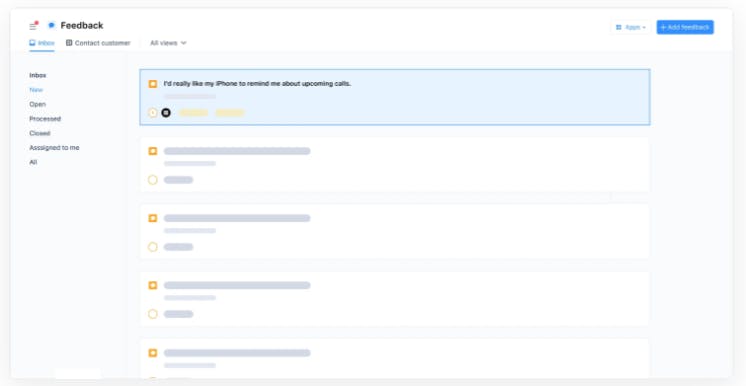 Airfocus is a project management tool that helps teams prioritize and focus on the most important tasks. It is different from its competitors because it allows the use of many different prioritization frameworks that takes into account both the importance of a task and the team's ability to complete it. This makes Airfocus valuable for teams who want to make sure they are working on the most important tasks and making progress towards their goals.
Like Productboard, Airfocus has a feedback inbox feature, which allows its users to manually review and categorize incoming feedback.
Pricing: To access feedback management features, Airfocus starts at $59/user/month.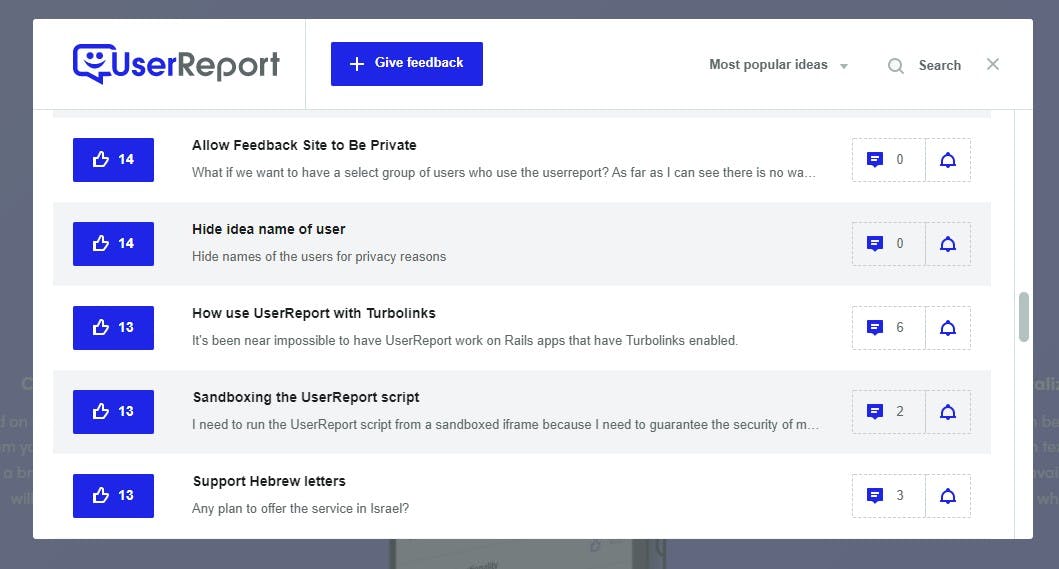 UserReport is a user feedback tool that helps brands and publishers collect feedback from their customers. It offers a variety of features that make it unique from its competitors, including a widget that allows you to collect customer feedback and conduct surveys. UserReport has helped brands and businesses improve their customer service by providing them with valuable feedback from their customers. It has also helped businesses save money by reducing the need for other customer survey tools and focus groups. 
UserReport is useful for collecting feedback, but does not offer much in terms of feedback management, or roadmapping.
Pricing: UserReport is free.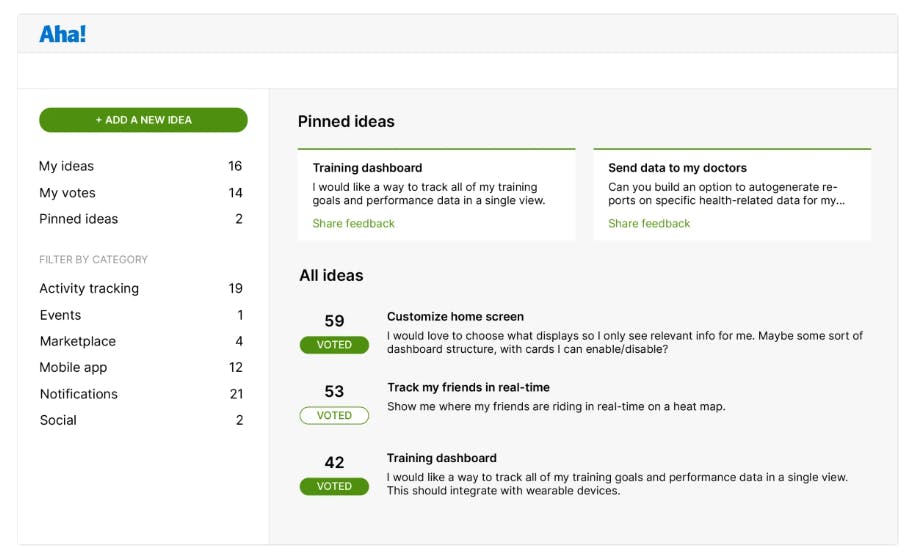 Aha! is a product management software that helps organizations to develop and track products. Some of the benefits of using Aha! include the ability to see the big picture of your product strategy and track progress against it. It is also a centralized place to manage all your product information, including requirements, features, and roadmaps. There are many benefits to using Aha! to manage user feedback, but there are also some downsides. One downside is that it can be a bit clunky to use. Another downside is that it can be difficult to keep track of all the feedback you receive. 
Pricing: Aha! starts at $49/user/month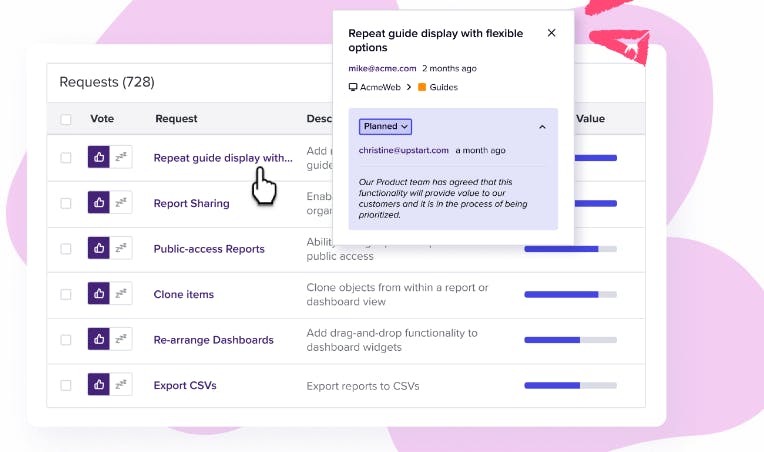 Pendo is a user feedback and analytics tool that enables companies to manage and improve their products. It provides detailed insights into how users interact with products, enabling companies to make informed decisions about product development and user experience. Additionally, Pendo offers a variety of features for managing user feedback, including the ability to track feedback across multiple channels, prioritize feedback, and route feedback to the appropriate team members. Pendo is unique in its ability to provide detailed insights into user behavior using in-app analytics. This makes Pendo a top choice for those wanting to prioritize user experience.
One of the main benefits of Pendo is that it integrates with a number of different tools that businesses may already be using, such as Salesforce, Mixpanel, and Segment. This makes it easier for businesses to get started with Pendo and begin gathering feedback from their users. 
However, one downside of Pendo is that its pricing can be expensive for smaller businesses. Additionally, its interface can be difficult to use, which can make it difficult for businesses to get started.
Pricing: Request a demo to find out pricing for Pendo's feedback suite.

Viable is a product that helps companies summarize qualitative user feedback. It generates reports with an analysis of your feedback with insights into what users are saying, and how often. Data can be synched in using various integrations so that you can generate your report across various data sources.
Viable focuses on feedback analytics and reporting, and does not provide any tools to take action on the generated feedback.
Pricing: Viable starts at $250/month.
9. Spreadsheet

A spreadsheet like Google Sheets or Microsoft Excel can be used to manage product feedback by recording customer complaints, tracking their resolutions, and keeping a record of customer contact information. However, spreadsheets fall short compared to dedicated feedback management tools because they lack features such as automated email notifications, real-time reporting, and data visualization.
Dedicated feedback management tools typically offer a more robust set of features than spreadsheets. For example, they may allow users to generate detailed reports on customer feedback, export data to other formats, or create custom workflows for managing customer feedback. Additionally, dedicated feedback management tools often offer a higher degree of flexibility and customization than spreadsheets, making them more suitable for businesses with complex feedback management needs.
Pricing: Varies based on vendor; $6/user/month for Google Sheets
What's the best feedback management tool in 2022?
The best feedback tool will depend on your needs. Some of the solutions we reviewed are general purpose product management tools, while others are focused on being customer feedback collection tools.
For example, the most comprehensive, all-around product management tool on this list is Pendo, but the product is quite expensive and they target enterprise level customers. Canny and UserReport offer a unique method of collecting feedback, but this comes with the downside of having to actively manage your feedback portal. Productboard and Airfocus offer roadmapping, which help you take action on your feedback, but the actual feedback management is labor intensive and cumbersome.
In addition to building roadmaps and managing product launches, Embarkable allows you to monitor a single stream of incoming feedback to keep a pulse on what users are saying - something that would be much too time consuming to do manually. When you have different team members handling support or social media, Embarkable offers peace of mind because you'll know that critical feedback isn't falling through the cracks.